Thanks to Rebecca Beitsch at PewTrusts.org http://www.pewtrusts.org/en/research-and-analysis/blogs/stateline/2016/08/17/in-many-courtrooms-bad-interpreters-can-mean-justice-denied
In Many Courtrooms, Bad Interpreters Can Mean Justice Denied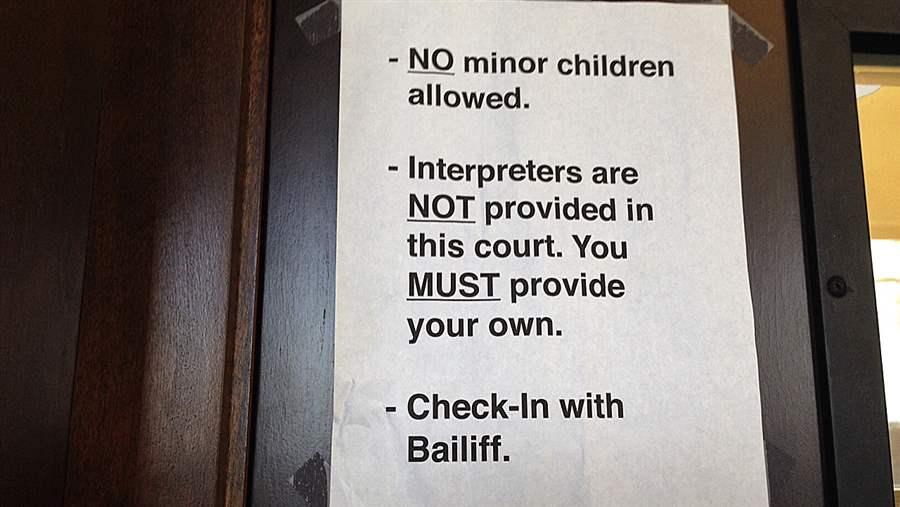 Patricia Michelsen-King was observing the proceedings in a Chesterfield, Virginia, courtroom a few years ago when a man shouted in Spanish from the back of the courtroom, "I didn't rape anybody!"
Michelsen-King, who teaches Spanish interpretation at Virginia Commonwealth University, said the outburst was the result of bad translation from his court interpreter. Though the man was accused of running a red light, his interpreter told him he was accused of a "violación," which in Spanish does not mean "violation," but "rape."
The interpreter should have used the word "infracción," said Michelsen-King, who was in the courtroom because she was about to begin working there as an interpreter, too. When she approached the distressed man, he was sitting with his interpreter, admitting to the traffic offense but firmly denying what he thought was a rape charge.
Such misunderstandings are surprisingly common in state and local courts. Because many states and localities don't use tested court interpreters and ignore federal rules for when interpreters are required, many criminal defendants and civil litigants with limited English skills are not equipped to navigate the complex legal system, jeopardizing their constitutional rights.
"There is ample experience and anecdotal evidence to substantiate that many [people with limited English proficiency] regularly come before the courts and are unable, without language access services, to protect or enforce their legal rights, with devastating consequences to life, liberty, family, and property interests," the American Bar Association (ABA) said in a resolution four years ago urging courts at all levels to adopt standards for interpreter services and calling for adequate funding.
The lack of skilled interpreters is less of a problem in federal courts, where interpreters must pass a competitive test. Most states certify court interpreters, requiring that they pass a test to demonstrate their language skills. But many state certification tests aren't as rigorous as the federal one, and many state and local courts allow uncertified interpreters to serve even if they haven't passed the test. Many states also ignore the federal mandate that they provide free interpreters in both criminal and civil courts.
In some states, the U.S. Justice Department has stepped in. Since 2010, the department has investigated courts in Colorado, Hawaii, Kentucky, New Jersey, North Carolina and Rhode Island for failing to comply with federal rules.
Because there are so many U.S. residents — roughly 25.6 million — who have limited proficiency in English, the credibility of the nation's justice system relies on competent interpreters, Michelsen-King said.
"People think the interpreter is just there for the person who doesn't speak English," she said. "Maybe it's the defendant, maybe it's a witness. But people forget the interpreter is there for the benefit of everyone. So the lawyers can do their job. So judges and juries can make good decisions."
A Legal Obligation
A series of court rulings, an executive order and Department of Justice rules require states to provide interpreters in all court settings or risk losing federal money. Not doing so would be tantamount to unlawful discrimination based on national origin. And interpretation should be provided for free.
"Is everyone providing it across the board and free of charge? No. But it's generally accepted now that that's how it should be," said Vanessa Ruiz, a judge with the District of Columbia Court of Appeals who chaired the ABA's language access project that was instrumental in drafting the association's resolution.
But eight states don't certify court interpreters. Thirty-two of the 42 states that do certify interpreters require that courts give a preference to those who are certified, but many interpreters say the policy is not always followed.
Sometimes interpreting tasks fall to people who aren't interpreters at all. Judges may ask a nearby probation officer or someone in the courtroom to translate. When an interpreter is not available, defendants and civil litigants may be instructed to hire an interpreter or bring a friend or relative to help them out, said Rob Cruz, executive director of the National Association of Judiciary Interpreters and Translators.
"One judge asked if there was 'someone in an orange jumpsuit' who could translate, under the assumption that there might be a Latino defendant that could interpret," said Deborah Weissman, a professor at the University of North Carolina's School of Law, who wrote a report on the state's interpreter services. "The idea that you'd actually rely on some random person is absolutely unacceptable."
States allow uncertified interpreters to serve for various reasons, said Agustín de la Mora, who trains interpreters in a number of states. States may not have a certification test for uncommon languages. And if they do, it's possible that nobody has passed it. That forces judges to rely on someone who isn't certified, or perhaps someone who is familiar with the language but doesn't regularly interpret.
But using uncertified interpreters can pose problems…